02/12/2015
Perched thirty-three floors above Downtown Boston, the State Room is a unique, urban event space with views that even rain and fog can't beat. On a dreary afternoon in December, 800 guests arrived at the modern venue for a holiday luncheon. While the weather wasn't ideal, panoramic glass walls, a variety of entertaining activities and winter white decor made for a festive reception!
Linens in shades of white, silver and ice blue dressed a variety of communal tables, cocktail rounds and high tops. Centerpieces featured charming white floral arrangements, snowflake luminaries and sparkling snow globes. Scattered throughout the State Room, lighted evergreens and over-sized lanterns added a little twinkle to the ambiance.
From caricature artists to green screen photo booths, there were plenty of entertainment options to keep guests occupied throughout lunch. In the Great Room, Detour Unplugged played well known pop songs on their classical instruments while guests took pictures inside of a life size snow globe. It was quite a unique photo op! Before departing, guests lined up at a massive candy bar filled with 200 lbs of blue and white sweets. Yes, you read that correctly, 200 lbs!!!
02/02/2015
Hunting for holiday party venues in early summer usually means the sun is shining, the temps are high and the last thing we really want to be thinking about is the holidays (and inevitable snow). But, the early bird catches the worm… or in our case, the restaurant! For one local corporate client, food and fun are at the top of their holiday party venue checklist, so we were not surprised when we received a late night epiphany email that they would love to have their party at Island Creek Oyster Bar. Known for it's impressive raw bar, fresh seafood and casual yet lively energy, ICOB is the perfect spot for any fun-loving foodie!
As we mentioned last year (
A Fresh Take on the Holidays
), the ICOB space is open and airy with a vibe that evokes the Cape and the Islands. Upon arrival, guests enjoyed a variety of exceptional wines, holiday themed cocktails and delectable hors d'oeuvres. To pay tribute to the holidays, cocktail tables were topped with red florals in birch vases and luminous mercury votives.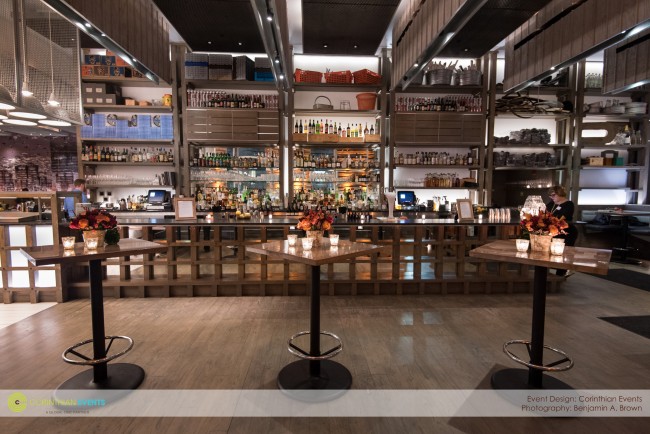 Following cocktail hour, guests moved to the main dining room for a three course seated dinner. Decor was truly Pinterest worthy! Birch spheres, succulents, illuminating candlelight, red calla lilies and boxwood accents created festive, rusti-chic tablescapes. Menu cards, with a sprig of rosemary on top, detailed the hearty meal guests would enjoy. Dinner was top notch and included a fresh winter salad, delicious shrimp and grits, and a rich lobster gnocchi. Bellies full, guests moved back to the bar after dinner and continued to celebrate the holidays with spiked milk shakes and holiday cookies!