01/16/2015
Originally proposed as a 50th Anniversary celebration last March, some extenuating circumstances required us to shift gears and recreate this event 9 months later with a festive twist. We tweaked their original Hollywood glamour theme, keeping the burgundy, black and gold color palette and adding holiday elements. The result was a classic and beautiful celebration in the Shapiro Courtyard at the Museum of Fine Arts.
As guests approached the MFA, the stately building was awe inspiring. A burgundy carpet lined with pillar candles and burgundy carnation orbs led guests inside where they were offered a commemorative glass of bubbly champagne.
The dinner reception was held in the glass enclosed Shapiro Courtyard, home to a towering, lime green Chihuly sculpture. Amber perimeter lighting and a burgundy color wash warmed the entire room while a slowly moving pattern of snowflakes projected on the ceiling and marble walls created an impactful visual. As guests made their way into the celebration, festive linens and room decor gave the space an inviting holiday feel. Centerpieces on a variety of communal and round tables featured burgundy and soft white florals accented with pinecones and lush greenery. Spruce evergreens with white lights were scattered throughout the courtyard while gold candelabras and burgundy floral spheres flanked the bars and stage.
Following dinner, guests were welcomed onto the dance floor by Encore, a 7 piece band featuring three diverse lead vocalists and an ace rhythm section. Surrounding the dance floor, sleek white banquettes with complimentary gold silhouette end tables, gold accent pillows, and luxurious fur throws were the perfect spot for guests to enjoy a bite of dessert or post dinner cocktail. Spectacular gold orbs placed on pedestal added a touch of elegance to the soft seating areas.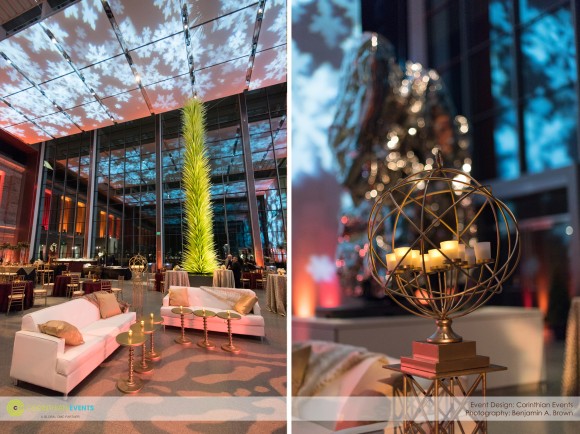 12/23/2014
We have great news to share! This week the Association of Destination Management Executives announced their 2015 Achievement Award Finalists. We are so thrilled to be nominated twice and would like to congratulate all of the finalists! Winners will be announced at the ADMEI Conference in Los Cabos, Mexico this coming February.
Our nominated events are: *drum roll please*
The American Society for Reproductive Medicine's
Annual Conference
in the "Best Creative Events – Best Overall Program" category
Hello Boston: The Emirates Airlines' Inaugural Flight Gala
in the "Best Innovative Events" category
Good luck to all of the nominees, we'll see you in February!